An accident happened.  
My husband microwaved my Merlet Cloe. 
He was carrying my shoes in his backpack while he was riding a bicycle. And he got rained. So my shoes got wet. He tried to blow dry them first, but found it so slow. Thus he microwaved them.
So my shoes got destroyed when I just settled with them after pointe-shoe gypsy-ing for a while. Indeed I was deeply in love with Cloe I thought it was the second best thing which has happened to me after my childhood and parents' dogs, with husband being downgraded.
I had ordered a new pair of Cloe at a store in Covent Garden about five weeks prior to the incident. But the store still has not gotten them from Merlet.  
I pulled out the old Sansha F.R. Duval. But it did not feel right this time. So I desperately needed a new pair.  
After much contemplation if I should go to Freed to buy Classic Pro or not, I decided to try something else. Partly because Freed shoes do not last at all and it is not economical for recreational dancers. This time, I rather want to use that money to take more classes.
So I ordered a pair of Wear Moi Omega from the Planet Dance website and here is my review. As mentioned in the previous blogs,   Prerequisites  are: my street shoe size is UK 3-3.5, JP 22.5-23 cm or EU 35-35.5. My feet are very wide and low-profile. The toe shape of my feet is Egyptian but close to square. My ballet level is advanced recreational, never good enough to become a professional.
The reason why I decided to order this model is that it has the XXXX width. Bloch's XXX is not wide enough for me. Freed XXX is fine depending on makers as Freed shoes break down quickly. 
The size I ordered is UK 4, XXXX width, and medium ¾ shank.  
The most distinctive character of Wear Moi Omega is it does not have drawstrings but elastic bindings. At first they felt a bit tight but I found them just about okay in class. 
A quick summery is Omega feels like a hybrid of Freed Classic Pro and Bloch Axis Dramatica. 
Key take-away 
Omega Feels like Freed Classic Pro made with Bloch's modern materials
Three-quarter shank 
Low-profile
May be difficult to customise 
Strong box, somewhat tapered 
Box moulds around your feet after a few hours of wear 
High wings 
Comes with four widths 
No drawstrings 
No heels slippage 
Round platform 
Not an adagio shoe, but less wobbly than Classic Pro  
Detailed review from here.
Omaga's box shape is similar to Dramatica but the platform is broader than Dramatica. 
Other differences between Omega and Dramatica is Omega comes with a full outer sole, so it is a lot more stable than Dramatica. Plus, the surface of these Bloch shoes' insole hurt my ball of the foot so much, but Omega's insole surface feels just fine and does not have this problem.   
The inside of Omega is quite streamlined and I like it. The heels have anti-slippage fabric, which grips heels well. In fact, the inside looks very similar to some Capezio point shoes. I even suspect they are made in a same factory. I am only judging from some online images of Capezio shoes, which I have never tried. Let me know if anyone has any information about this.  
 When en pointe and on flat, Omega's shank feels like 3/4-rd Freed Classic Pro. And it is quite forward-pitch. However, Omega feels more stable on flat than Classic Pro. The material used for shanks and insole is more modern than Freed. Despite en pointe feels similar to Classic Pro, the insole looks similar to Bloch Dramatica and Elegance. This may make it difficult to customise the shank. Omega is not particularly an adagio shoe, but a lot less wobbly than Classic Pro.  
Omega's box, somewhat tapered, is very strong and wing is high. I like these features but they may not be everyone's cup of tea. Omega is low-profile rather than high, but you may not have to worry about this too much for reasons I state in the paragraphs below mentioning sizing and molding. 
Omega's platform edge is very round. So there is no edge. Please see the images compering Merlet Cloe and Omega. Cloe has a very defined edge, which gives me a good grip on the side tip of the big toe. But Omega's platform is so round I have absolutely no grip.  (Sorry about the dirty Cloe shoe)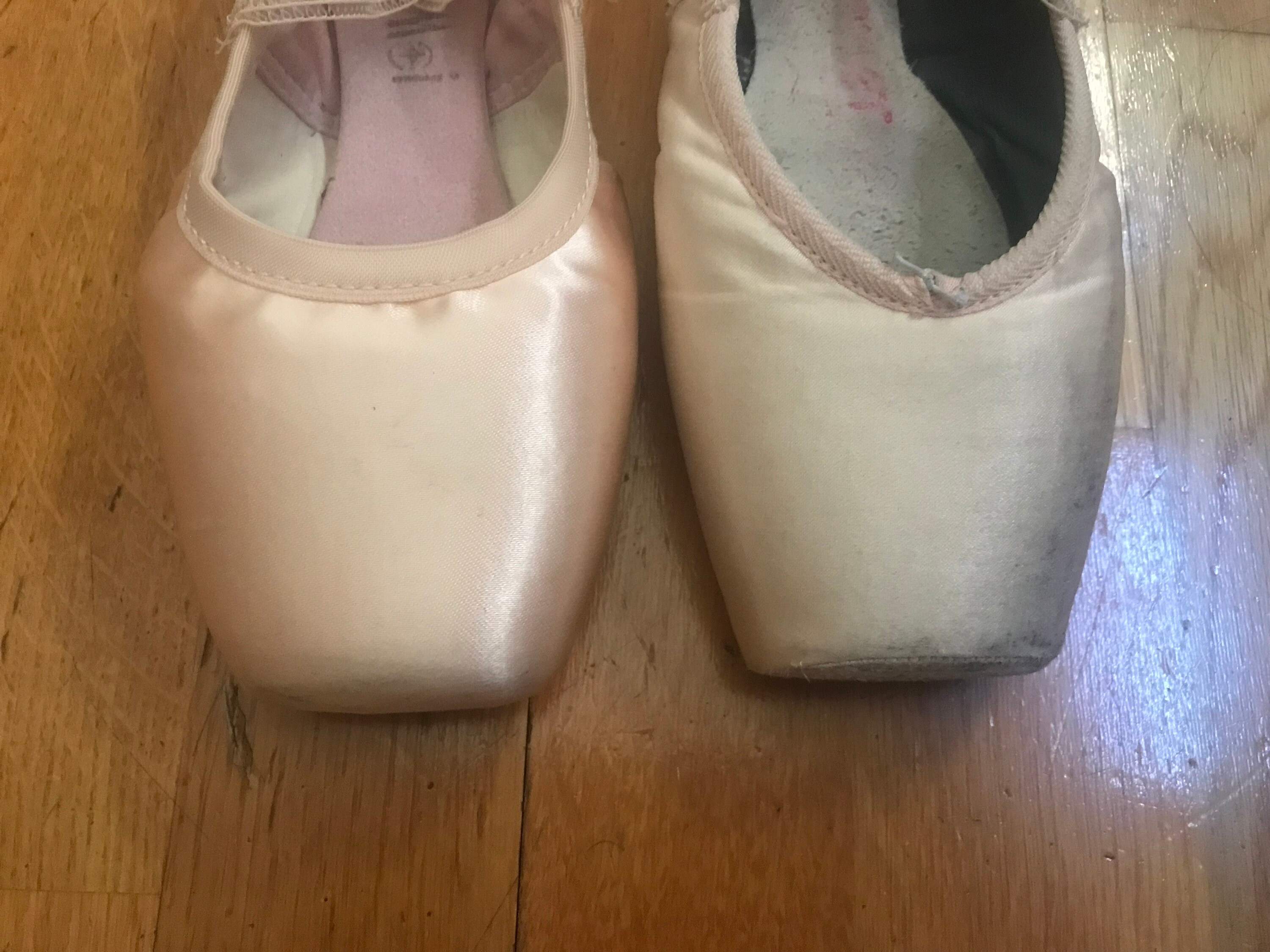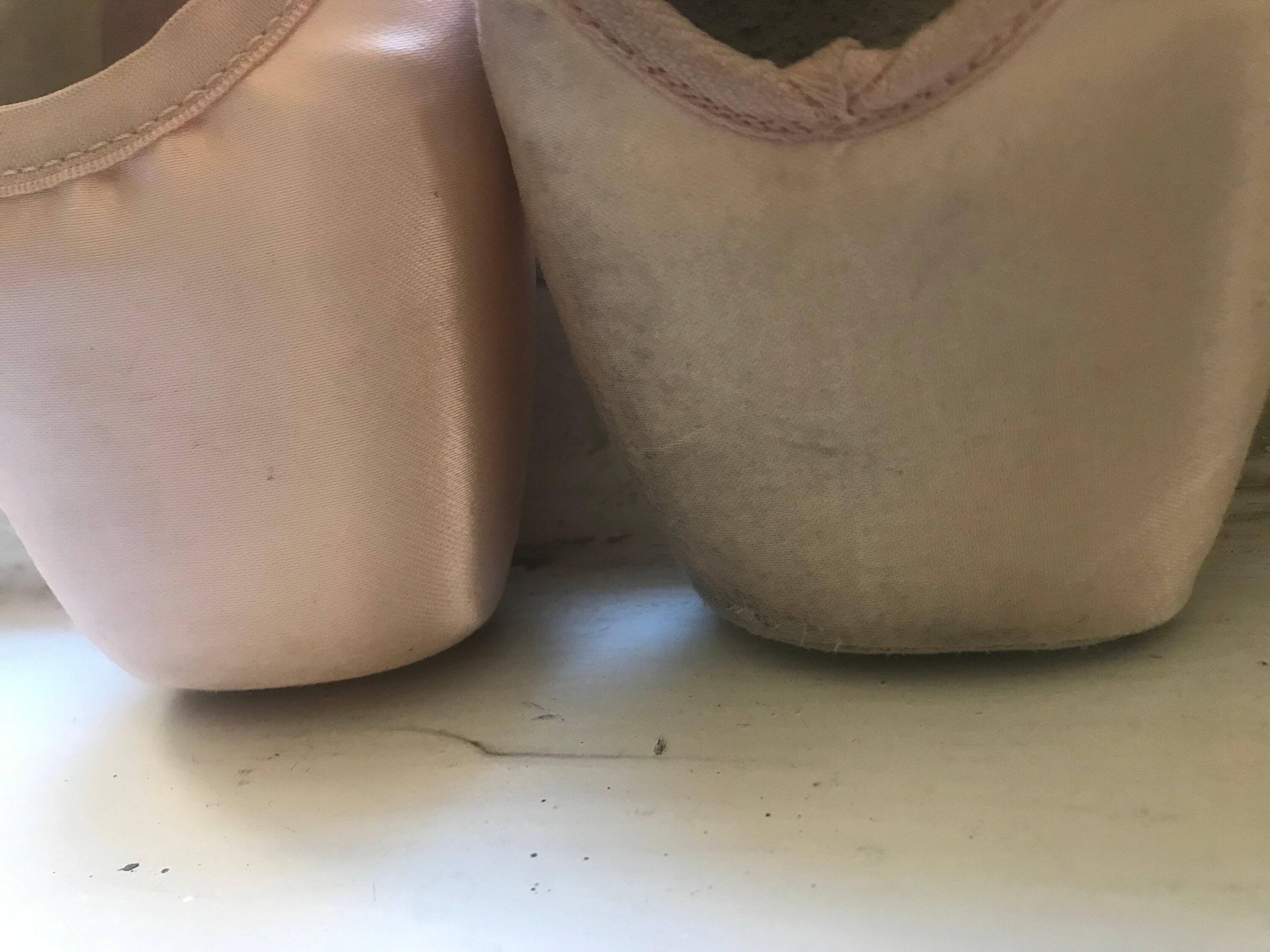 At first I freaked out about Omega's platform. However, I discovered they are turning shoes, and they are quite stable. Sometimes, practicing with not-so-perfect shoes helps me to identify my weakness and build strength. I checked where the platforms became dirty after the class. They got dirty on the front-big toe part of the platform, so I believe I did okay. 
Considering all of these, I will keep on using Omega until I get Merlet Cloe! Although, I might darn the platform at one point to create an edge. 
I want to note about the sizing of Omega. At first, the shoes felt too roomy when I used tapings only as I do with Cloe and US Gaynor Minden. But they felt very tight when I used silicon toe pads as I do with Freed. I wore them for a couple of classes with toe pads and walked around with them on at home. Then the box expanded slightly and now they feel okay. This is explained on Wear Moi's website. Although the box is very hard, it moulds around your feet after a couple of hours of wear. 
Omega's platforms are also moldable but not as much as Freed. 
The en-pointe side view is beautiful. Omega's ¾ shank breaks at a higher point than I feel comfortable with when I wear them with taping. I will keep using toe pads with them to make the break-point high enough. 
I do not yet know how long Omega lasts. I will update at one point.
The verdict is Wear Moi Omega is a good pointe shoe. Do I repeat it? If the microwave incident happens again and if I am desperate, I might!
I also created a pointe shoe ranking. Here is one so far. I will update ad hoc basis.   
Merlet Cloe – I enjoy this shoe the most. Its platform is great! 
 Freed Classic Pro V and Crown makers 
Made-in-USA Gaynor Minden – RIP -- 2 and 3 are a tough call.
Wear Moi Omega
Freed Classic V and Crown marker
My old Repetto from Chacott. I do not remember the name of the model.
Bloch Elegance – Platform is very flat and has a sharp edge. A good turning shoe.  I wish I could use them better. Unfortunately, the widest fitting is still not wide enough for me and the shoe started hurting my feet so much after 30 minutes. They gave me blister on where a tailor's bunion might be. Also, insole hurt the ball of the foot. They die quickly.
Sansha F.R. Duval
Grishko Dream - This shoe did not fit my feet properly but felt very comfortable when I tried them on. Many of my friends love it.
Bloch Axis Dramatica – It articulates feet very well. The platform is so small it was not stable for me. Also, insole hurt the ball of the foot. It may be an okay shoe for contemporary piece? I do not know. 
R Class 32 – I did not like the shank and the platform shape. Very very low profile. Weight distribution is rather on the middle toes than big toes.
Repetto Carlotta – They are beautiful shoes if you can use them. Unfortunately, the shoes did not fit me, i.e. the widest fitting was still too narrow to my feet.
 Out of question: Made-in-Europe Gaynor Minden and Sansha Ovation