I have finally received a new pair of Merlet Cloe! I got it from a French online shop called Madmoiselle Danse. 
They handled my order very quickly and I am very grateful. I might use the shop again in future. Also someone very recently told me Merlet now has its own online shop. 
With regard to the one I ordered via Dancia London in mid-August …. I have no idea what is going on. 
Before I get into the detailed review of Cloe, please allow me to mention some unfortunate comments I noticed when I was watching the Royal Ballet's Insight on YouTube. It was the broadcasting of the pre-recorded rehearsals of Giselle. One woman commented that dancers wore ugly "platform shoes" and how she preferred Margot Fonteyn's "pointy pointe shoes." Another woman joined saying that she was in another dimension. 
I am afraid I have to disagree with them. 
Fonteyn is  prima ballerina assoluta. She is the ballet legend. I do not disagree on this point. However, with no intention of being rude, I believe it is fair to say most world-class professional dancers today are technically better than her. That is because ballet dancers' techniques build on previous generations' and they work a lot harder in an ever-improving environment today than before, and partially thanks to the modern pointe shoes with good platforms. 
Vintage pointe shoes do have certain charms. But we live and dance in the 21st century. We are thankful that we do not have to wear those pointy pointe shoes, aren't we? Personally, they would not fit my wide feet and I would not be dancing now.
By the way, Yasmine and Julia in the Royal Ballet Insight both use Prima Materia skirts!
On that note, I am getting into the review of Merlet Cloe.  
Here are some key take-away 
Light weight 
Hard box, wing and platform with good edge
Streamlined
Square box 
High wing
Low vamp – If you find it too low, try Merlet Diva, which comes with a very deep vamp 
Three-quarter shank 
Thin insole and shank 
NOT pre-arched
Non-slippery outer sole 
Built-in toe cushion 
Satin tip with good grip – Diva comes with suede tip 
Made in France 
No pleats 
No odour 
Quiet  
Long lasting 
Cotton drawstring 
Comes with thick cotton ribbon  
Inventory may be a problem   
Before getting into details, let me mention the characteristics of my feet and toes. My street shoe size is UK 3-3.5/ JP 22.5-23/ EU 35-35.5/ US 5-5.5. My feet are very thin, or low-profile, wide in the metatarsal area and narrow in the heel. My left foot is bigger than the right. My right foot is flexible and the left is not so much. The toe shape is Egyptian, but close to square. I started taking ballet classes when I was six years old but gave up on my dream to become a professional when I was fifteen. So I consider myself as an advanced recreational dancer now.  
One more thing I keep forgetting to mention- I have flat feet.
I bought 14/36.5 D STM for Cloe. This is my second pair in the same specification and I love it. I do not know what STM stands for.  
 For me, Merlet Cloe is a second skin pointe shoe and I do not do any customisation other than attaching elastics. I do not notice the shoes while I dance. They feel as though they are part of my feet. So I can focus on pulling up. However, because of this property of Cloe, you have to use your feet well. If you turn in, the Cloe shoes make your feet look even more turned in when you go on pointe. Because this shoe listens to you well, you have to execute pirouettes properly. Otherwise you do not turn well. But if you do it properly, Cloe is a good turning shoe. 
Cloe's box is quite square and not tapered. Please see the images on the top and below. Again I love it, but it may not be the best option for sharp Egyptian feet.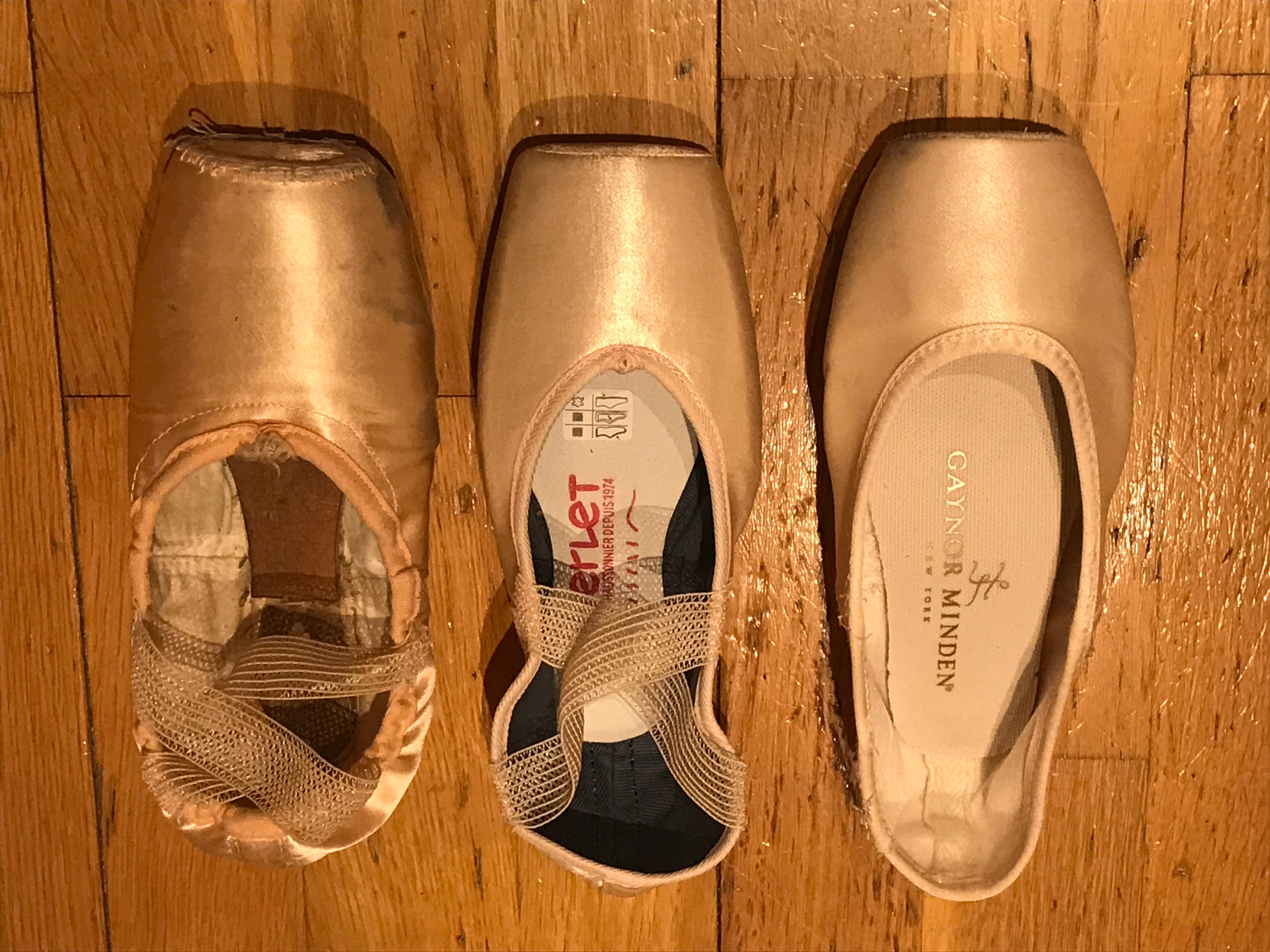 From left: Freed Classic Pro V maker 4 xxx, Merlet Cloe 14/36.5 D, Gaynor Minden Classic Fit-6-Box 4-Low Vamp-Low heel
Sorry about the yellowish light in the second image.
Cloe's box, wing and platform are hard. Some shoes are hard because of heavy glue, which makes them very heavy, bulky and noisy. This is not the case for Cloe. Cloe is very streamlined, light and quiet. However, the sides of the foot may be rubbed by the hard box and wing for the first few times of wear. So make sure to protect your feet. 
The platform looks flat, but it feels slightly forward pitch for me. The platform edge is sharp but not rock solid. So I do not have to worry about slipping especially when I like to use the edge just below the big toes.  
Cloe's shank is three-quarter, which I love but may break low for some people. I was told the pair I bought was "medium shank." The Merlet website says Cloe comes with a full (inner?) sole, which is made of very mysterious material called cryptonite. However, there is only fabric underneath the heel, and I love it. 
The shank and sole are very thin and they are NOT pre-arched. The outer sole is made of leather, which is the least slippery in my not-so-impressive ballet life. 
Cloe is very stable for adagio and preparation for turns.  
Thanks to the shank and the sole mentioned above, I do not have to three-quarter them but they still feel three-quartered and stay straight. 
Cloe, as well as Diva, comes with built in gel toe-cushions shown in the image below. They do not move around or wear out although occasional adjustment may be necessary. Cloe comes with a satin tip, which is NOT slippery at all. The combination of the toe-cushion and the satin tip gives me a really really good grip on the floor. Please note, though, I have not danced on wooden floors for many years.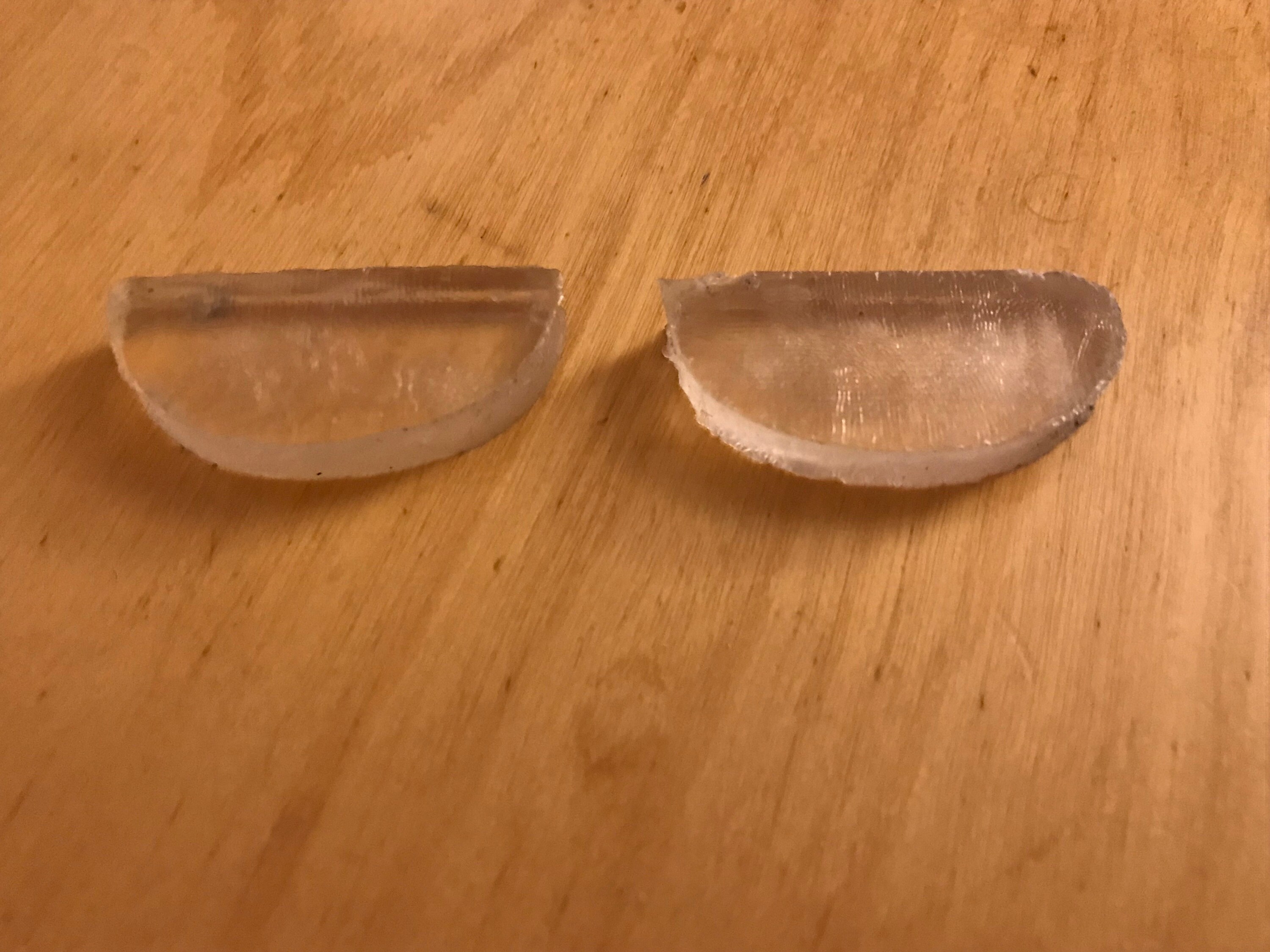 Cloe's built-in toe cushions after four months of wear. Thickness is flat 8 mm/0.3 inches.
Now, these toe cushions may not be everyone's cup of tea especially if you want to use toe pads. I freaked out for the first couple of wears. I removed the toe cushions but did not work. Then I realised I did not need toe pads, which I used for Freed, but the toe cushion back in and with toe tapes. I started trying with the left over of the toe tape for Gaynor Minden shoes, which I ditched after GM moved the production during the pandemic. So, for toe protection, now I use combination of Gaynor Minden's box liner for my right foot, a toe protector tube for my left second toe, micro-foam tape and sports tape for big and small toes. It's a lot of TLC. 
I always wear pointe shoes barefoot, but Cloe does not become smelly. Wonderful!   
Cloe is a long lasting shoe. I started wearing in mid-May this year. For the first six weeks or so, I used Cloe alternatively with the Freed Classic Pro V maker, which was also second skin for me but required darning. I used Cloe until mid-September, when my husband microwaved it. If he had not done that, I would have carried on wearing the same pair for a few more weeks. The box and shank felt very same and stayed hard over four months. The wing became a bit soft, so I used some glue a few times to harden it.
Some cons. Cloe comes with a cotton dawstring. I tend to replace cotton drawstrings with elastic codes, but this replacement mission's success rate is about 50%. It comes with very thick cotton flat segments --- I refuse to call them ribbons. Does anyone use them? My first pair of Cloe occasionally broke down at the demi-pointe from the full pointe. But the second pair, so far, does not present this problem.  The first pair's sockliners became loose quickly so I had to glue them back. 
I really wish I had met Cloe when I was a teenage aspiring dancer. If you have near-square short toes like mine or square toes, you will like Merlet Cloe's box shape. If you have longer square or near-square toes, try Diva.  
If shoes are good, nobody cares about where they are made. But I like that Merlet stick to their identity and make their pointe shoes in Limoges, France, while some other makers produce shoes in countries like China and Thailand.  Because of that, however, it may take a bit of time to buy Merlet shoes. 
I do not plan to try other shoes anymore. I will never cheat on Cloe. If supply becomes a problem again, I will go to Freed. Still, if you have any shoes you want me to try on, please let me know!   
The ranking stands the same.
Merlet Cloe – I enjoy this shoe the most. Its platform is great! 
 Freed Classic Pro V and Crown makers 
Made-in-USA Gaynor Minden – RIP -- 2 and 3 are a tough call.
Wear Moi Omega
Freed Classic V and Crown marker
My old Repetto from Chacott. I do not remember the name of the model.
Bloch Elegance – Platform is very flat and has a sharp edge. A good turning shoe.  I wish I could use them better. Unfortunately, the widest fitting is still not wide enough for me and the shoe started hurting my feet so much after 30 minutes. They gave me blister on where a tailor's bunion might be. Also, insole hurt the ball of the foot. They die quickly.
Sansha F.R. Duval
Grishko Dream - This shoe did not fit my feet properly but felt very comfortable when I tried them on. Many of my friends love it.
Bloch Axis Dramatica – It articulates feet very well. The platform is so small it was not stable for me. Also, insole hurt the ball of the foot. It may be an okay shoe for contemporary piece? I do not know. 
R Class 32 – I did not like the shank and the platform shape. Very very low profile. Weight distribution is rather on the middle toes than big toes.
Suffolk Solo Prequel
Repetto Carlotta – They are beautiful shoes if you can use them. Unfortunately, the shoes did not fit me, i.e. the widest fitting was still too narrow to my feet.
 Out of question: Made-in-Europe Gaynor Minden and Sansha Ovation